Museum's offer
Przyszedł czas na odkrycie muzeum
Młodym dajemy inspirację – ich entuzjazm jest zaraźliwy. Dla nich – zajęcia edukacyjne, lekcje tematyczne, warsztaty dopełniające programy szkolne, koncerty umuzykalniające, konkursy.

Młodszym zapewniamy dobrą zabawę i aktywną edukację poprzez: zajęcia artystyczne, zajęcia edukacyjne, wakacyjne i zimowe "Buszowanie po zamku", koncerty umuzykalniające, konkursy
Zajęcia edukacyjne
Na dworze Hochbergów (klasy IV i starsze)
Kim był marszałek dworu? Co to świta dworska? Czym zajmował się kredensarz? Na te oraz inne pytania szukaj odpowiedzi w trakcie zajęć edukacyjnych Na dworze Hochbergów, realizowanych na eskpozycji wnętrz pierwszego i drugiego pietra zamku.
Zamkowa przygoda (klasy I-III)
Wnętrza zamku kryją wiele tajemnic i zagadek. Kto tutaj mieszkał? Jak wyglądało życie dawnych właścicieli? Tropiciele przygód to dociekliwi badacze i czujni obserwatorzy. Odkryj w sobie tropiciela podczas zajęć edukacyjnych Zamkowa przygoda. Rozwiązuj zagadki, które znajdziesz w materiałach otrzymanych w czasie zajęć, pomogą one rozwinąć wyobraźnię i detektywistyczne umiejętności.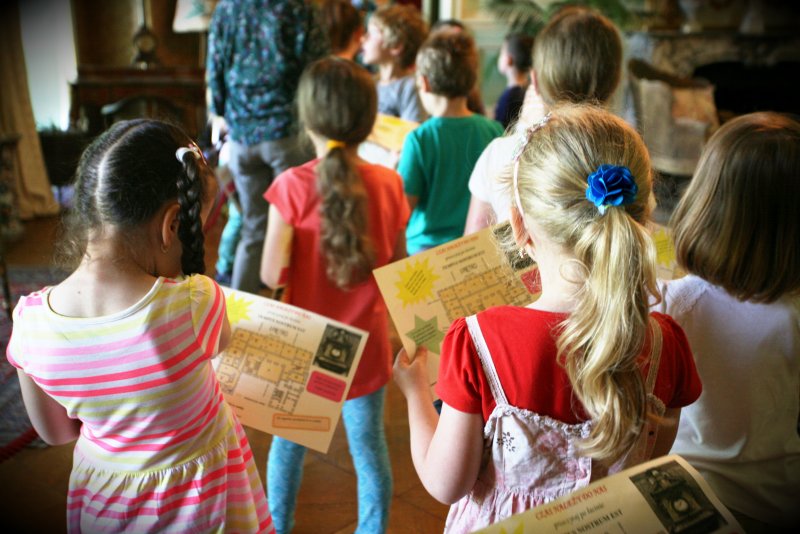 Czas na zamku (dzieci najmłodsze)
Wyruszamy w podróż w czasie. Ile zegarów kryje zamek pszczyński? Na poszukiwanie zegarów do zamku zapraszamy najmłodszych. Wraz z edukatorem poznamy zamek pszczyński, odszukamy i zaznaczymy na mapie wszystkie znalezione zegary.
Warsztaty dopełniające programy szkolne:
Pozdrowienia z Muzeum Zamkowego w Pszczynie (sztuka pisania listów)
Po co komu portret?/ Portret czy selfie?
Zamek od kuchni
Wyspaceruj dzieło sztuki (animacyjne spotkanie z malarstwem pejzażowym)
Co każdy Polak o hymnie wiedzieć powinien? (klasy młodsze)
Informacje i rezerwacje:
Dział Edukacji od poniedziałku do piątku w godzinach 7.30 – 15.30
pod numerem telefonu 32 449 35 70, wew. 35
lub pod adresem edukacja@zamek-pszczyna.pl
Miłośnikom Muzeum Zamkowego w Pszczynie oferujemy bogactwo historii, kultury i tradycji miejsca, w którym mieszkamy. Zapraszamy do wspólnego odczytywania dawnych znaczeń, głębszego poznawania siebie i świata wokół nas w scenerii historycznego dworu magnackiego